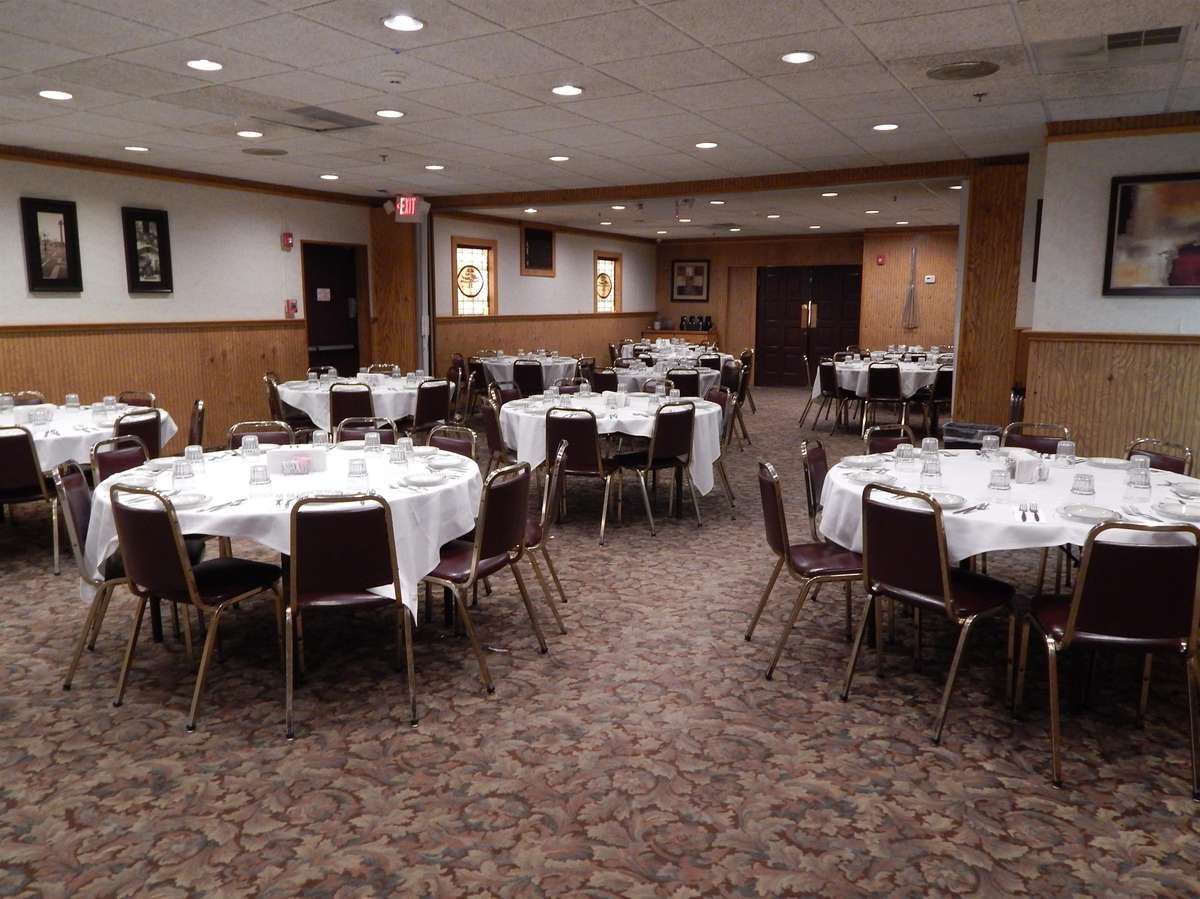 In-House Menu Pricing
Banquets & Parties
If the Items on our menu do not fit your specific needs, we would be happy to
custom design a menu to accommodate you for any special occasion or party.
A Minimum Deposit of $100.00 is required to confirm any reservation.
Brunches, Pizza Parties, And Hors D'oeuvres Prices Quoted Upon Request.
Prices do not include:
8% Sales Tax
20% Suggested Service Charge
PRICES ARE SUBJECT TO CHANGE
Appetizers
Fresh Vegetable Tray W/ House Dip - $3.99
Per Person
Fresh Fruit Tray- $3.99 Per Person
Cheese Tray- $3.99 Per Person
Hot Buffet - $21.99
Baked Ziti
Meatballs
Roast Chicken and Potatoes
Pizza
Chef Salad
Rolls & Butter

Italian Feast - $24.99
Roast Chicken and Potatoes
Baked Ziti
Meatballs
Pizza
Antipasto
Rolls & Butter
...CHOICE OF ONE BELOW...
BAKED LASAGNA
STUFFED SHELLS
PENNE VODKA SAUCE
Pizza - Wings - Salad
Small Pizza - $12.99
Cheese Pizza, 12 Inch – 12 Slice.
$1.49 Each Extra Topping.
Large Pizza - $14.99
Cheese Pizza, 16 Inch – 16 Slice.
$1.99 Each Extra Topping.
100 Wings - $139.90
50 Wings - $69.95
Antipasto - $2.99 Per Person.
Chef Salad - $2.49 Per Person
In-House Banquet Information
Banquets
Children 4 and under are free. Ages 5-8 are ½ price.
Linens are included.
To book please call 315-488-6066.
We will need your name, phone number, arrival time, serving time, type of party, and menu at the time of booking.
Please let us know of any special requests.
There is a $100 deposit to hold the room.( non-refundable)
$400 minimum spend for 1/2 private room before NYS sales tax
$600 minimum spend for Full private room before NYS sales tax
Parties need to be either day or evening, not in the middle of the day.
Catering Pricing
*Full Tray feeds roughly 30 people
*1/2 Tray feeds roughly 15 people
Food
100 Wings - $139.90
50 Wings - $69.95
Tray of Ziti - $80.00
½ Tray of Ziti - $50.00
Tray of Stuffed Shells - $85.00
½ Tray of Stuffed Shells - $45.00
Full Tray Lasagna (25ppl) - $110.00
½ Tray Lasagna - $65.00
Chicken Parm (4oz) 1 piece - $7.00 (1/2 a dinner) Per portion
Chicken Marsala (4oz) 1 piece - $7.00 (1/2 a dinner) Per portion
Chicken Francais (4oz) 1 piece - $7.00 (1/2 a dinner) Per portion
Tray of Eggplant (25ppl) - $100.00
½ Tray of Eggplant - $60.00
Tray Sausage & Peppers & Onion - $90.00
½ Tray Sausage & Peppers & Onion- $60.00
Roasted Chicken & Potatoes - $7.00 / min 25ppl
Mini Meatballs (100) - $90.00
Mini Meatballs (50) - $50.00
Mini Meatballs (25) - $25.00
Regular sized Homemade Meatballs - $2.25 (each)
Full Tray of Chicken Riggies - $110.00
½ Tray of Chicken Riggies- $60.00
Tray of Shrimp Alfredo (75 Pieces of Shrimp) - $160.00
1/2 Tray Shrimp Alfredo (35 Pieces) - $90.00
Full Tray of Penne Alfredo - $110.00
½ Tray of Penne Alfredo- $60.00
Full Tray of Pasta w/ Vodka Sauce - $90.00
1/2 Tray of Pasta w/ Vodka Sauce - $50.00
Tray of Pasta w/ Marinara or Spaghetti Sauce - $60.00
1/2 Tray of Pasta w/ Marinara or Spaghetti Sauce - $35.00
Scallops Wrapped In Bacon (100) - $220.00
Scallops Wrapped In Bacon (50) - $120.00
Deviled Eggs (100) - $100.00
Deviled Eggs (50) - $50.00
Stuffed Mushrooms (100) - $120.00
Stuffed Mushrooms (50) - $60.00
Chicken Tenders (100) - $110.00
Chicken Tenders (50) - $55.00
Mozzarella Sticks (100) - $110.00
Mozzarella Sticks (50) - $60.00
Chef Salad - $2.49 / person
Antipasto - $2.99 / person
Caesar Salad - $2.99 / person
½ Tray Roasted Potatoes - $25.00
Full Tray Roasted Potatoes - $50.00
½ Tray Utica Greens - $45.00
Full Tray Utica Greens - $90.00
Fruit Tray - $3.99 / person
Cheese Tray - $3.99 / person
Fresh Vegetable Tray w/ house dip - $3.99 / person
Antipasto Supreme - $3.49 / person
Crumbly - $6.00 cup